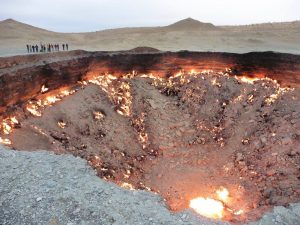 The reason we originally fell in love with Central Asia is a story in itself and occurred many years ago now. The short version is as follows – we decided after watching one too many episodes of Top Gear that we should attempt to drive around the world. After a short period of planning and buying a car in order to do it, we left Melbourne, and eleven months and one day later, we arrived in Scotland. During this overland adventure, we had our first taste of the former Soviet Republics of Kazakhstan, Kyrgyzstan, Uzbekistan, Tajikistan and of course our favourite, Turkmenistan.
As for opening the Central Asian Office of Young Pioneer Tours – it all started, like all great ideas, with a few beers. In this instance, it was North Korea's finest beer – Taedonggang. It was in the drunken early hours of the morning that the plan was formed. Apparently YPT had been wanting to expand to Central Asia, especially Turkmenistan, for a few years but were waiting for the right people/opportunities. That's where we came in! Myself and my partner in crime Eilidh had travelled extensively through the region, I myself had written a two-year-long masters thesis on Central Asian politics and history, we were learning the language and had the connections to get some unforgettable tours off the ground.
At this point we had just gotten married and were maintaining a rather comfortable existence in Melbourne. We packed it all in, put a lot of stuff in parents' garages and flew to Almaty. From that point on we have worked tirelessly to get to some of the most interesting places imaginable. We were never in this to stay on the beaten track. Although a very rarely visited part of the world, people still do occasionally travel to Central Asia. From the very start, we wanted to get access to and take people to places that foreign tourists had never been to, or that foreign tourists have rarely visited, and that's what we have worked on doing.
It's been tough work, especially as YPT prides itself on developing relationships. As such we've had to travel extensively through the region to maintain good working contacts with our partners and friends. On one such occasion a connection in Kyrgyzstan wasn't replying to our emails (yes we do have electronic mail here!) so we took a quick four hour drive plus a border crossing to go and see them. Many people before we undertook this adventure asked why we hadn't just stayed in Melbourne or somewhere else more comfortable to do this job. The answer is simple, we wanted the YPT Central Asian office to be as the name suggests, their Central Asian office! On the ground, close to the action.
If you join us in Turkmenistan, Uzbekistan, Tajikistan, Kyrgyzstan, Kazakhstan and now even Afghanistan, you know that we are right here in the region knowing what's going on on the ground, and giving you the best and most relevant advice as details change. Unlike the Central Asian Lonely Planet, the advice won't be three to five years out of date.
Finally people ask why we chose Almaty to open the Central Asian Office for YPT? Almaty is the capital of cool, well allow me to rephrase that, the Central Asian capital of cool. It's a fun, hip city to be in, with connections to all the other Central Asian republics. Almaty is full of life and never has a dull moment, but in all the good ways, not in a 'Syria currently never has a dull moment' sort of way. It has become our home and after a great fun tour it's good to be back here.
Get off the beaten track with us.
You can explore Central Asia this summer:
About Post Author
.