Map of the Ukrainian sector of Chernobyl
When you look at a Chernobyl Map it gives great insight into where everything happened, but also into how the response was handled.
The Chernobyl area, officially named Chernobyl Exclusion Zone, is a part of north Ukraine and Belarus. It consists of 95 villages and 3 towns on a territory of 2044 square kilometers. Today Chernobyl exclusion zone is different than the one drawn after the accident on April 26, 1986 (originally it was a circle of 30 kilometers around the Chernobyl nuclear power plant).
The territory was formed according to measurements of the radiation level of five elements (responsible for over 50% of radiation). This is now the zone of absolute resettlement and is guarded by Ukraine police and security services. The zone is closed to public and entrance is possible only for workers or tourists with special permissions.
Tourists need to travel with one of the official tour operators and tourists can walk in the Chernobyl only accompanied by an official guide. The Chernobyl zone is divided into 3 safety zones (according to the level of radiation) – 30-kilometer exclusion zone (lowest level of radiation), 10-kilometer exclusion zone (higher level of radiation), and the Pripyat city zone. There are radiation controls on the exits of the zones (except Pripyat).
Towns and villages are left as they were evacuated in April/May of 1986, so there are many artifacts from the Soviet era. Houses are still equipped and left with the personal effects of people evacuated, kindergartens, schools, hospitals, etc. is left with all equipment and documents from the days shortly before the accident.
Map of the Belarussian sector of Chernobyl
Today, Belarus has far more territory classed as a 'dead zone' as a result of the Chernobyl catastrophe than Ukraine does. The country has two exclusion zones: one in the south near the Ukrainian border, and one in the east near the Russian border. Here is a map, kindly created by a team of urban explorers from the Netherlands called 'Exploring the Unbeaten Path'. This details the 'dead zones' of southern Belarus and northern Ukraine.
Chernobyl Map of the Pripyat River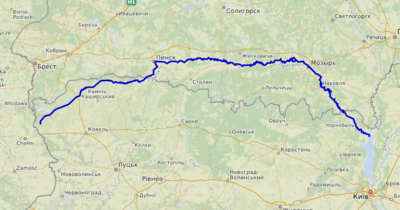 The Pripyat passes through the exclusion zone established around the site of the Chernobyl nuclear disaster. The length of the river is 775 kilometers and 495 kilometers of the whole river length lies within Belarus.
The Pripyat begins on the Volyn Hill, between the villages of Budnik and Horn Smolars of Lyubomlsky District in Ukraine. After 204 km downstream, it crosses the border of Belarus, where it travels 500 km through Polesia, Europe's largest wilderness, within which lie the vast sandy wetlands known as the Pinsk marshes, a dense network of swamps, bogs. rivers and rivulets within a forested basin. For the last 50 kilometers, the Pripyat flows again in Ukraine and flows several kilometers south of Chernobyl into the Kyiv reservoir.
About Post Author
.