Listvyanka – On YPT's recent trip to Lake Baikal, we not only visited the capital of the Buryat Republic and sampled their fine cuisine, as well as learnt the history behind Irkutsk's bizarre mascot, but we also got to, y'know, visit the lake itself.
One of the most famous places that borders the lake is the 'village' of Listvyanka. I put that in inverted commas because it's not really a village at all – at least not anymore – but is simply a small lakeside resort where you can grab some food, look around the souvenir/fish market and hang out by the lake. It's not dissimilar to an English seaside town, in many respects.
Here's what to see and do in Listvyanka.
The Taltsy Open Air Museum
OK, so this one isn't quite in Listvyanka, but it's on the way.
Taltsy is a recreation of a 17th-century Siberian village, and like many things in Siberia it's pretty cool.
The 'village' is built entirely out of wood and sports a school, traditional wooden houses, a fort, and Buryat yurts. You can go inside the houses and get an idea of how people lived and studied 400 years ago. Keep your eyes out for the creepiest schoolgirl mannequin ever to creep tourists out.
Another highlight of the complex was a bunch of Cossack men singing a cappella – basically a Siberian barbershop quartet. In true traditional Cossack style, they have recordings available on DVD and USB pens.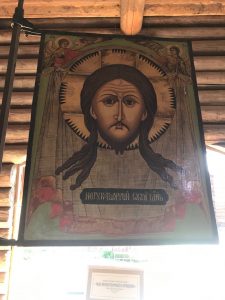 Don't miss out on a chance to try local drinks and snacks, including the unique kvass, a kind of yeasty honey-flavoured beer-like drink.
Lake Baikal Museum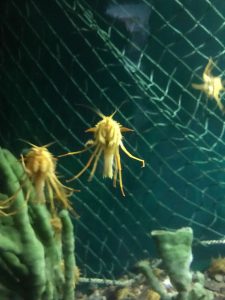 What's the first thing you're gonna do when you finally reach the shores of Lake Baikal? Go and check out the lake? Don't be silly. You're going to the Lake Baikal Museum.
The museum features the geological history of the lake, an explanation of the animal life that inhabits it at various depths (it's the deepest lake in the world) and even a faux submarine ride into the depths, where you can look out of the 'windows'. There's also a small aquarium that houses several Baikal seals – the world's only freshwater seals.
Listvyanka fish market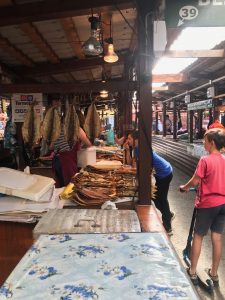 Listvyanka fish market is more of a combination fish/souvenir/snack market, in all honesty. Here you can shop for fish, souvenirs and, uh, snacks to your heart's content. The kebabs that are offered here are excellent, but be warned that there's little in the way of a queueing system and you'll need to stay vigilant to make sure you get your food.
Listvyanka beach
The beach itself is perhaps the least impressive aspect of Listvyanka. There's well, not really much too it – there's perhaps ten metres from the road to the sea – and it's quite crowded. There are booths for those seeking shelter from the sun, but you have to pay an hourly rate for the privilege of sitting there.
And there we have it. Is Listvyanka worth a visit? Ultimately, it is, but the highlight by far is Taltsy, with its charming wooden buildings, traditional singing and local snacks and drinks to die for.
Visit Taltsy and Listvyanka on our next trip to Lake Baikal!
About Post Author
.