We know, we get it, Island Hopping in the Philippines isn't very "YPT", it's easy to do, why would you need a tour group and blah blah blah. But here are the salient facts: Palawan has been voted the best island in the world four years running. El Nido offers the best island hopping in the Philippines. If you go by yourself it would be really bloody expensive to hire your own boat, and if you join a random group it will most probably be a Chinese one. And the main point? Drinking on boats with fellow Pioneers is rather fun!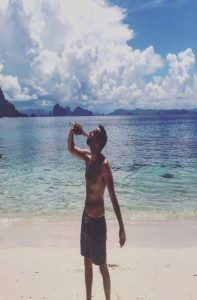 So what do you do on the Palawan Island Hopping tour? Well gather round and let daddy tell you a story.
Avoiding Manila and visiting the Hobbit House
The tour, pretty much by necessity, starts and ends in Manila (unless you are joining our East Timor tour). Manila is a bit of a craphole, so we embrace this by staying in Ermita. Night one has us in our own private rooms (we don't room-share on this tour), and as we're in Ermita we visit the Hobbit House. This is a bar where all the staff are midgets. Aside from the amusing midgets, they have great food and drinks.
The next day we get up nice and early to head to Terminal 4 for the one-hour flight to Puerto Princesa, bustling capital and metropolis of Palawan. Instead of heading straight off to El Nido, we check into our private villa with pool for a day of, well, lounging about and drinking by a pool. We're not reinventing the wheel here.
The voyage to El Nido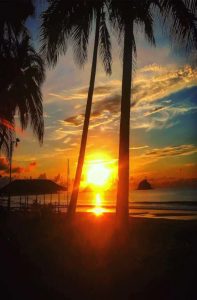 The next day involves the trek from Puerto Princesa to El Nido, which takes about 5 hours. As it's our private bus, however, this means we take a few stops for drinks, food and photos. Again pooled resources means a comfortable journey, rather than a public bus. On arrival we check into our beachside huts before heading out for drinks and food.
Then we have two days of island hopping. What is island hopping in El Nido, Palawan Island? Exactly what it says on the tin: it's beers, rum, boats, snorkelling, beach bars, and going to different islands – lots of islands.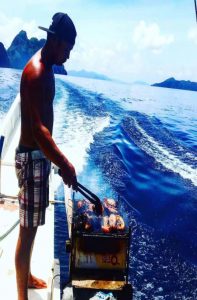 In the middle of the island hopping we have a rest day. Our usual form is to rent motorbikes and drive to a waterfall, or sit by the beach eating and drinking, before a last day of island hopping.
For our last night in El Nido, standard form is for us to either camp on an island or head to Nacpan beach, a secluded beach about an hour north of El Nido. We then drink and have a spit-roast (the kind that involves a pig – get your mind out of the gutter).
Return to Puerto Princesa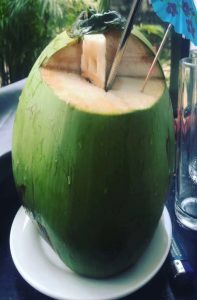 Our last tour day involves an early departure for the drive back to PP, and one last night in the villa.
So yeah: it might not exactly be classic YPT, but we have run it successfully for 5 years with small groups ranging from 4-8 people.
Come hang out with the cool kids.
Join YPT's 2019 Palawan island-hopping tour! 
About Post Author
.