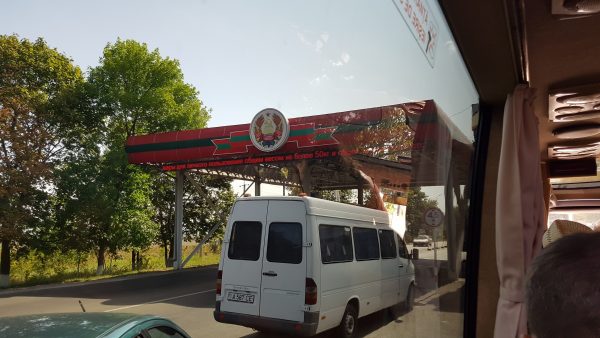 After running tours there for ten years, it's no secret that Transnistria is one of our favourite countries (that technically doesn't exist). After breaking away from Moldova in a civil war during the collapse of the Soviet Union, Transnistria exists today with its own government, currency, police, military and border control. Today we're going to focus on how to get into this secretive but fascinating republic.
In the early days when Transnistria was fairly lawless having not long overcome a civil war, it was no easy feat getting inside. Faced with a wall of bureaucracy and corruption, those days were a true test for YPT guides bringing tourists into the country. Thankfully, Transnistria has come a long way in the last ten years and whilst it is still secretive and Soviet, they have taken a slightly more open minded approach to tourism.
To get inside Transnistria requires a visa in the form of an entry slip that is issued on arrival at one of the country's border posts. Whilst they have certainly improved, Transnistrian border posts can still be a very intimidating place for a non-Russian speaker and do not expect pleasant service if you can't communicate with border police with basic Russian.
In order to obtain entry permission, the border police will likely want to know your intended purpose of visit, your specific accommodation address and amount of days you will be staying in the country. Once you provide them with this information they will issue you with an entry slip in your passport. It resembles a receipt more than a visa but don't be fooled, it is vital to keep hold of this slip of paper as it is your proof of legal entry into the country and you will certainly need it when you try to leave. It is very good practise to carry your passport and entry slip on you at all times when in Transnistria, if you are approached by police for whatever reason and they want to see it then not having it with you will be a problem.
When exiting the country the process is a lot more straightforward than entering, you simply hand over your passport to the border police and they will double check the information on the paper is in order. If you want to keep your entry and exit slip you may have to ask them as depending on the border guard, they may automatically keep it.
To visit Transnistria and skip the stress of the border negotiations, join one of our groundbreaking Transnistria tours which run throughout the year as well as our private customizable tours which run 395 days a year.
About Post Author
.