Tourism or travels into the country isn't the first thing that comes to most people's mind when talking of North Korea. If it is brought up, a common misconception is that visiting the country limits you to the capital of Pyongyang and the DMZ. But, there's so much more to this beautiful and undiscovered country just waiting to be explored.
We asked our guides what their personal favourites are, and why.
---
Ben
Mt Kumgang
Rarely visited by many tourists, Mt Kumgang located near the border with South Korea in the Eastern part of the country offers some of the most amazing scenery on the whole of the Korean peninsula. Best visited in Autumn when the foliage is in its most spectacular red and orange glory, Kumgang offers a mix of views from mountainous waterfalls to crystal clear beaches. One of my favourite things to do at Kumgang is to go to one of its hot springs, which are some of if not the best in the country. If hiking is your thing then Kumgang is also a prize pick for you, with easy walks all throughout the mountainous terrain on well-maintained tracks, all of which take you to some of the most beautiful spots in Korea.
YPT travels to Kumgang, once a year during the peak autumn season in October in combination with the celebrations for Party Foundation Day.
---
Rowan
DPRK Metro
I've visited the DPRK more than 100 hundred times and I usually get asked by tourists do I get bored coming back? My answer is simply "not yet". Every time I do return to North Korea I'm able to experience or witness something I haven't yet done in the country which helps open my understanding of the locals and their culture.
The Pyongyang Metro is a key part of this. It's a living and breathing organism of the city and it's incredibly vibrant, charming and it can even be sometimes intense at times during the peak hour.
The locals are a mix of workers, families, friends, students, military men & women and old folk. They usually tend to be a little shy at first seeing foreigners riding the metro but some are quick to open up to a fun discussion. I've had conversations using English, Korean and even sometimes Chinese! It's a quick glimpse we have into their daily lives and some locals are more open than others. "Why aren't you married? You're old!" said one older gentleman after being confused about my marital status. "Is everyone in Australia tall like you?" a university student would ask. "Do you have Pyongyang cold noodles in your country?" a middle-aged woman would enquire after we had a quick discussion about Korean food.
Click here to watch our video as we explore the entire metro, or read more about it here.
---

Matt

Chilbosan Homestay
Situated right on the Chilbo Sea in North Hamgyong Province in the North East of the country, this is the only homestay available to tourists in North Korea. I love the complete change of pace from the usual hectic day on tour – life slows down here. From the moment you arrive, you're met by an entourage of extremely confident local kids and pregnant dogs roaming around. The food in the village is particularly great and the waitresses always very hilarious, giggling and sometimes caught secretly taking photos of their strange new guests (ahh, how the tables have changed!).
The highlight for me though is the post-dinner bonfire on the beach, roasting marshmallows, sharing the guitar around for both foreign and Korean sing-a-longs and more recently, the locals bringing out a big portable speaker and blaring what can only be described as North Korean techno – electronic versions with a dance beat to some of their most well-known songs. Wild times.
Join us for the homestay in 2018! Click here for more information.
---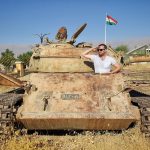 Shane
The beaches
For me, the country's best attractions lie outside of the cities and outside of the full control of the watchful eye. They lie in the countryside, on its coastlines and on its beaches.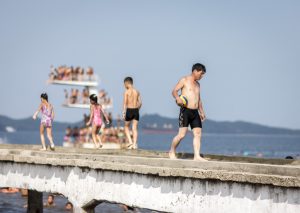 As you know, travelling in North Korea can be quite the restrictive experience to say the least. The beach is the one place where this notion goes out the window. You are dropped there and told to meet back in a couple of hours. A sense of strange normality takes over and you could have been dropped anywhere in the world. Suddenly you have free reign to wander off, drink some soju with a group of Koreans to your left, have BBQ with a North Korean family on your right or conjure up a conversation with random Koreans playing beach volleyball or wading through the light wash right in front of you.
This is especially the case at Nampo beach, my favourite seaside retreat. Nampo beach is only about an hour and a half drive west of Pyongyang. On a summers day, it is teeming with North Koreans doing exactly what you would expect from people on almost any beach on earth. The ability to interact, socialize with all guards down makes this for me, North Korea's best attraction.
---
Troy
Rason Markets
While it's pretty hard to compare so many different sites and types of activity, for me the Rason Market is the place I'd have to rate as my personal all-time favourite. It's the only market in the country that's currently open to tourists and as such provides a rare glimpse into the semi-private (all the market merchants have to pay the state for a market license, but their trade is private) local economy.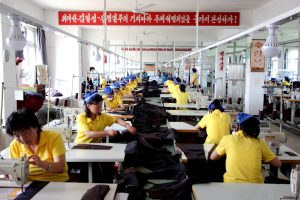 The one downside is that cameras are not allowed in the market, but the upsides more than makeup for it. You can immerse yourself in a fully local environment, barter and haggle using local won or Chinese RMB and check out the range of local, imported (mostly from China) and even homemade products available to people living in the area. The atmosphere inside the market is a world away from any other place I've been in the country. It's vibrant and bustling and much more familiar to anyone who's travelled in the developing world before, than the rest of the country is. It's a key insight into how people live their lives every day, and a great chance for your shopping to directly benefit locals, individuals and families.
(Pro-tip- The seafood is fantastic and cheaper than you'll find anywhere else in Asia, and the local restaurants in Rason will happily cook it for you on top of your regular dinner, with no extra charge. It's also the cheapest place in the country to get North Korean style clothing like Joson-ot (Hanbok) or North Korean style suits)
Join YPT on our Rason tours here and experience the markets for yourself!
---
Any of these attractions caught your eye?
Contact us here for more details on how to book a tour, or create your own action-packed independent tour full of activities chosen by you.
About Post Author
.