Words and photos by C. McGrane.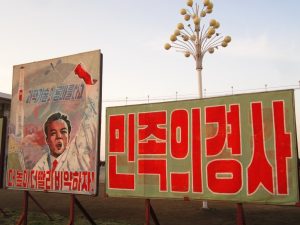 So much media hype and "He said, she said…" surrounds the Democratic People's Republic of Korea, possibly earth's most secretive nation at the moment. Not a whole lot of reliable or factual information is available about the northern half of the Korean peninsula, which makes it easy for some to create negative spins on what is going on there. Despite much recent aggression towards the controlling regime in the DPRK, and strong threats that they would retaliate with force, it is one of the most placid atmospheres I have ever experienced. True, the communist state plays a big part in keeping its people firmly grounded, but 'UN' sanctions are depriving the population, not the rulers, of much needed foods and supplies, causing an overall situation where hard work is the only thing that most of them know. Up to 80% of North Korea is mountainous so what remains must be farmed as efficiently as possible to limit starvation among the ordinary people.
Farming and all things agricultural is a way of life for the majority of North Koreans. Manual labour is necessary as there are only occasional tractors doing the ploughing and some heavy work, and back up is provided by oxen which pull carts and ploughs. Groups of people usually farm together, young and old, including children still in their school uniforms. Every inch of arable land is worked meticulously, from the roadsides to the bases of mountains including inside the DMZ! Rice, maize, buckwheat and potatoes are the major products. Vast expanses of land divided into fields only by embankments for irrigation control, stretch off into the distance with their distinctive ridges for potatoes and other crops.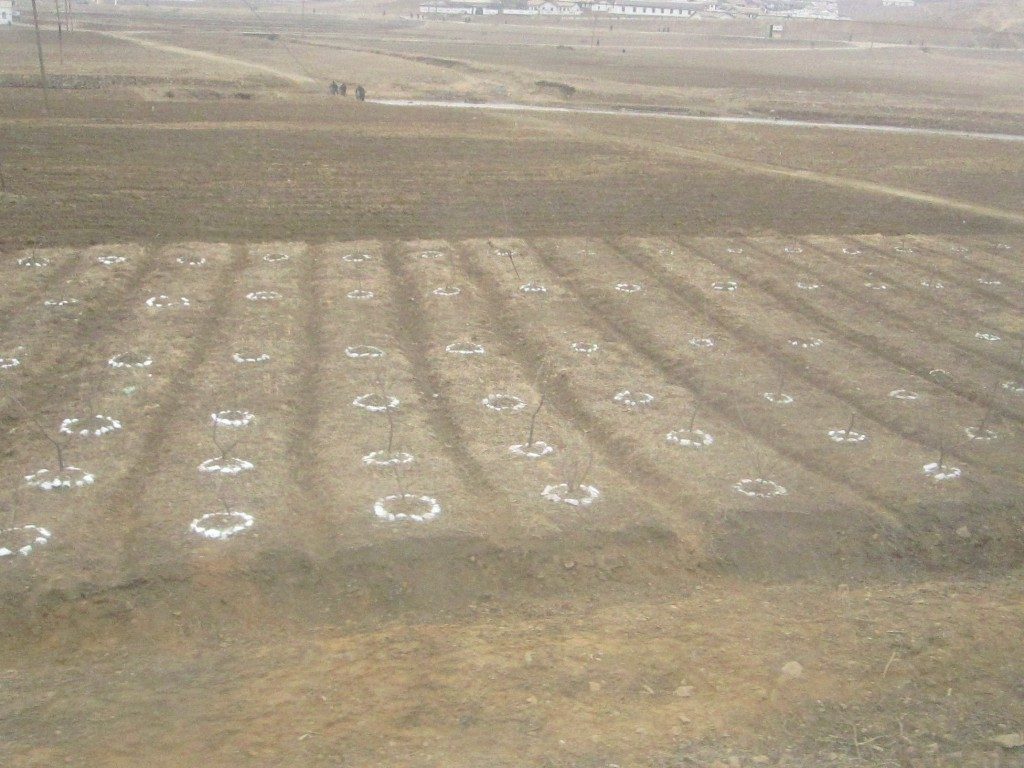 Lots of trees are planted as well as crops.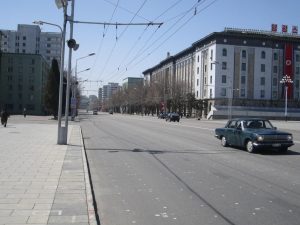 Mid day traffic in central Pyongyang, DPR Korea.
In Pyongyang, the capital city of North Korea, with around 3.25 million residents, there are very few cars on the streets. One advantage of this obviously is that there is much less noise (and pollution) than most other similar-sized major cities. Sanctions make importing foreign cars extremely difficult. DPR Korea does assemble its own marque, The Peace Car, although most of the components come from China. The cars, buses and trucks that are driving around are said to be practically all state owned.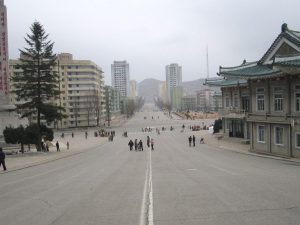 Downtown Kaesong, North Korea.
The deepest metro system in the world moves thousands of passengers each day through 17 elaborately decorated stations at a cost of 5 won (less than half a Euro cent) per person. The cost was decided by President Kim Il Sung, and he said it will remain the same until Korea is reunited as an independent country. Vintage looking street cars and buses are usually stuffed full of locals. Otherwise masses of people can be seen walking along the city streets as well as along the country roads. Even in the proverbial middle-of-nowhere lots of people are walking along, often across fields.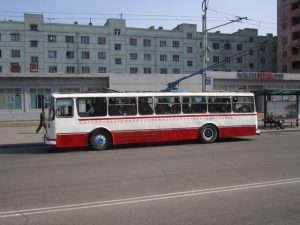 A Pyongyang trolley bus.
Boutique shopping isn't the thing in the DPR Korea. There is no Via del Corso or Oxford Street where you can spend a few hundred Euro on a pair of jeans. Actually shops and businesses are more or less state owned, or state controlled at the least. Advertising and commercialism is virtually absent! The dress code among most of the adult men is green army style suits with gold coloured buttons. At times it's not easy to differentiate between military and civilians. Numerous women wear the same outfits too. Other Korean men like to wear the type of grey and blue suits that the leaders, the Kim family, are associated with.
Restaurants and shops have basic signage, normally with the name and sometimes a basic neon symbol or picture of what is generally available. But no posters showing what's new or what's on sale. The only posters to be seen anywhere are colourful propaganda posters to motivate the masses. You won't find any famous department stores, 'big oil' petrol stations or fast food chains.
The cities have high rise residential buildings like in any other country, and each village has its share of detached houses, but they are all, you guessed, state owned. Folks must apply to the local government to get a place to live. Only married couples can do so however as single people are not allowed their own home, and have to remain with their families. They pay no 'rent' though, and aren't taxed.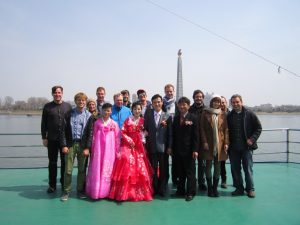 The wedding crashers, Pyongyang, North Korea.
North Korea has its problems, we know that. Most countries do. But there's always a huge difference between 'people' and 'government'. The personality of its current leader, just like his father before him, doesn't reflect in the general public who only want a peaceful reunification of the Korean peninsula without any foreign interference. Until then they will most likely work as hard as any culture on earth, and smile if they get a chance.
THINGS I DIDN'T SEE IN DPRK;
Horses or donkeys! None. The poor old cow must pull the plough.
Fences! The communal farms and the land are for everybody, but it's the government's too.
Rolls Royce, Ferrari, Hyundai or Kia! Lots of Volkswagen, Audi, BMW and Mercedes Benz, yes. South Korean cars? Definitely not!!
Garages or mechanic shops! They must be hidden in the tiny back streets or somewhere. I know Simca and Lada cars break down occasionally.
Lazy people! No Sir. Everybody works. That's how it is in North Korea, and loudspeakers are blaring at 6.00am to wake everybody up.
All 17 Pyongyang Metro stations! We foreigners are only allowed to use five or six, I forget which.
DPR Korea money! Not allowed for foreigners. Only Euro, dollar or Chinese cash but I did find a 1 Won coin (€0.001) at the ice rink. It was like finding €100.
Advertisements! Except for one big ad for domestic Peace cars.
Famous brand names or designer labels! Too expensive probably.
JEANS! Nobody wears jeans. Nobody. I was told it's not Korean style.
Foreign sports team gear! Only DPRK sports clothes, no Manchester United or Barcelona shirts, and no basketball tops.
Multinational corporations! They aren't welcome and Washington can't handle that.
Homeless people! Everybody has a place to live.
Camera shops! People in the DPRK generally hate being photographed.
Women smoking! The ladies simply do not smoke. Men make up for it though and students aren't allowed to smoke or drink.
Internet cafes! Internet is just not available yet.
A beard or a moustache (on a man)! Didn't see any at all. Not one.
Skateboards! But lots and lots of kids on roller blades, and ice skates.
Arrogance! People are modest, humble, shy, subservient. But then, I didn't see Kim Jong Un.
Kim Jong Un! Nowhere to be seen but he does exist apparently. He has been photographed.
Anybody disrespecting Kim Jong Un or his family! It's possibly the worst crime they have there.
THINGS I DID SEE IN DPRK;
A cat! In a week and a half I saw one cat.
 Dog meat soup! Don't waste your money. I only saw five or six dogs by the way.
A machine for cleaning your shoes! Walk across this thing and it cleans the soles of your shoes.
Portraits of Kim Il Sung and Kim Jong Il! Everywhere. Literally everywhere you look. Any place they visit gets a bronze statue or mosaic to commemorate the occasion.
Kids in full replica military uniforms! It's nothing unusual really in DPRK.
Happy children! Smiles usually don't lie, despite the hardships.
Hot traffic ladies! Yep, they are real, and look good too in their blue uniforms and they know how to smile.
A machine for covering your shoes! Step on this thing and it puts a little blue plastic cover over each shoe. Honestly.
A broken down truck in the street! So me and this big Ukrainian started pushing it down the road for him, but it still wouldn't start.
The embalmed body of President Kim Il Sung! The mausoleum for him and his son is bigger than some countries I think. It is so over the top.
Musical brilliance! Went to a performance by some of Pyongyang's more gifted kids and it was absolutely phenomenal.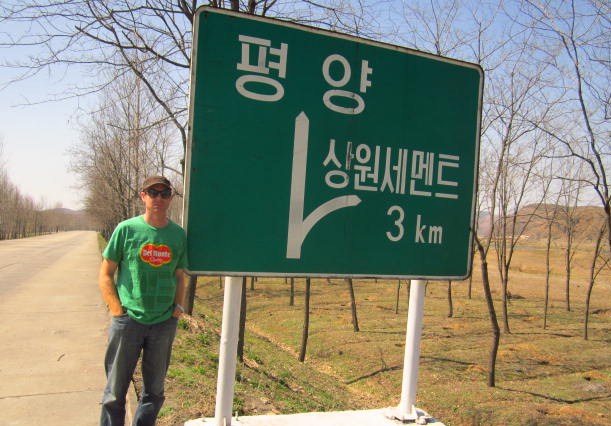 On the main motorway into Pyongyang, North Korea.
This post was written by C. McGrane who also runs the excellent MyDestinationTheWorld.
About Post Author
.