You dream of seeing massive animals in the wild? Some of the biggest predators in the world? The go-to destination for that is Africa. Safaris are often the first thing that comes to mind when thinking of travelling to Africa and, as such, a lot of people do sign up for tours of natural reserves in Africa. This can lead the experience to be somewhat edulcorated, when dozens of jeeps are circling around the same cheetah. While Kruger Park, Maasai Mara, Serengetti and Ngorongoro have quite the reputation, masses of tourists do flock to those destinations. At YPT, we like to do things differently and here is why we suggest five off the beaten path safari in Africa you might not have thought of that will give you an incredible experience, alone with the animals.
Virunga National Park, Democratic Republic of Congo
When it comes to Silverback Gorillas, there are three places to see them. You can see them in Rwanda, Uganda and DR. Congo. The Virunga National Park is located in DR. Congo, right by the border of Rwanda. As such, the gorillas you'll see in Congo are from the same families as those in Rwanda. However, the price of a safari in Virunga National Park is about a third of the price you'll pay in Rwanda. Virunga is also the oldest National Park in Africa.
While Virunga is located in the roughest part of DR Congo, the rangers there run a tight ship against all adversity from local rebel groups and safety is their utmost concern. You'll find that the National Park accommodation and facilities are world-class in terms of safety, cleanliness and service. The rangers are extremely qualified and are more than able to track the gorillas for you, leading to memorable encounters.
If it wasn't enough, Virunga National Park is also the site of the Nyaragongo Volcano. You can schedule a trek up the volcano and sleep right by the rim of one of the world's largest lava lake, an experience similar to Darvaza in Turkmenistan. This way, you can combine seeing the Gorillas and some really cool volcanoes in one trip of about 4 days.
Finally, for the country counters amongst you, visiting Virunga is one of the easiest and safest ways to scratch off DR Congo. You can simply go to Rwanda, arrange a tour with Virunga NP and they'll not only arrange a visa on arrival for you but they'll pick you up with armed rangers at the border.
If you want to learn more about this park and the effort the rangers make to keep it in one of the hardest regions of the world, a Netflix documentary has been made.
Nimule National Park, South Sudan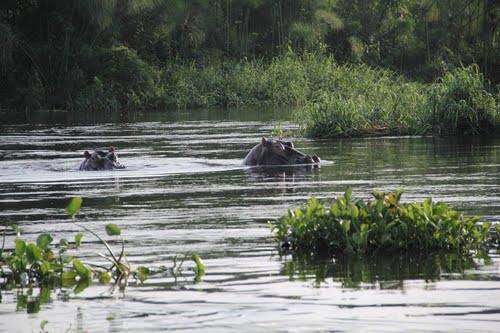 This entry bears a few ressemblances with the previous one. Nimule National Park, in South Sudan, is a great place to both do a safari and tick a visit to South Sudan. It is also located by a border, this time with Uganda. A proper East African Safari site, Nimule offers sightings of very big groups of Elephants. Here too, you are escorted by competent rangers who are in charge of both finding the animals and making sure you have a safe experience. You'll also be sure not to have another tourist in sight!
The best time to visit the park is during the wet season, when the animals come to the numerous rivers of the park to drink and chill.
Nimule can be visited both by driving from Juba, the capital of South Sudan or by driving up from Uganda and we can arrange visas and tours to this destination.
Zakouma National Park, Chad
The first three things that come to mind when thinking of Chad are desert, desert and desert. However, the southern part of the country has some vegetation which brings very large herds of animals who are staying there, cornered by the rough landscapes of the rest of the country.
Chad has a very high number of elephants as well as all of the big fives. It is definitely not the first place you'll think of going for a safari but certainly has everything that the better known destinations have and the park is described as near legendary. Visiting Zakouma can certainly be a great reason to visit the Central African Country.
Zakouma has a team of devoted ranger which can guarantee an incredible experience for you while you are there.
Pendjari National Park, Benin
This entry is another often overlooked safari destination in Africa. The Pendjari National Park in Benin doesn't have the same renown as the safari parks of Kenya, Tanzania or South Africa but offers a truly wild experience. You'll be driving in jeep through the thick jungle to catch sights of multiple animals. Pendjari has you being very active as it will also be your job to stand on top of the jeep and try to find the animals. This time in West Africa rather than East Africa, the park shares its wilderness with the neighbouring countries of Niger, Burkina Faso and Togo.
Pendjari is renowned to have some very rare animals such as the cheetah and the biggest population of West African lion in the world. You'll also see hyenas, wild dogs, jackals and hippopotamuses. Indeed, le parc national de la Pendjari, as it is called there, can truly hold its own against the more well-known safari parks of Tanzania.
Contrary to the previous entries in our list, this safari tour site is within a country that is safe and quite stable by African standards. For those who would like a unique experience in the wild without risks, this can be a great choice.
The park is also a UNESCO World Heritage Site. It can be easily accessed both from Lomé in Togo, which serves as a secondary hub for Ethiopian Airlines so has multiple regular flights, or Cotonou in Benin. YPT can easily fit in a visit to Pendjari to any tour of Benin you would like!
For any tour of Africa, including Safaris, get in touch with us!
About Post Author
.