The flag of Bangladesh is unique and very atypical. Some would say that it looks like the flag of Japan, and you wouldn't be wrong. Composed of a red dot on a green background, it has a very interesting history.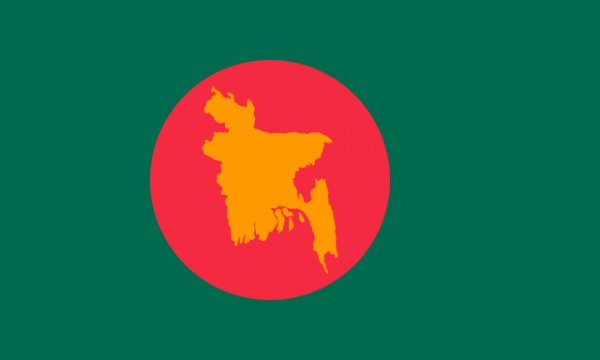 Table of Contents
When was the flag of Bangladesh adopted?
The flag of Bangladesh was adopted on the 17th of January 1972 following the independence of Bangladesh. A similar flag was used during the war of liberation of Bangladesh (back then known as East Pakistan), which ended in 1971 but that previous version had a map of the country on the red dot. It was decided to remove this map to make it easier to reproduce the flag accurately. Since then, the proportion of the red dot, as well as the colors of the flag, have been codified and made part of a law on how to reproduce it. Its official name is "the red and green".
Who designed the Bangladeshi flag?
The original design of the flag was designed by a union of students and activists based in Dhaka University.
What does the flag of Bangladesh mean?
The meaning of the flag is simple yet powerful. The red dot symbolizes either, like Japan, a red sun rising above the country or the blood of the martyrs who gave away their life to bring the foundation of the People's Republic of Bangladesh. The green background symbolizes the luxurious wildlife of the country, which is renowned for having the world's largest mangrove forest.
Who flies the Bangladesh flag?
It is compulsory for certain people to fly the flag above their homes. For example, the speaker of the parliament, the president and the prime minister must all have the Bangladesh flag flying above their homes.
It is occasionally flown at half-mast for certain occasions such as mourning and the national martyr day (national shaheed day now known as the national mother tongue day) and on other occasions as decided by the Government of Bangladesh.
Lastly, the flag was made part of a world Guinness Record when over 27,000 people gathered on the 16th of December 2013 to form a human flag which took the record as the world's largest human flag, up to this day.
Learn more about Bangladesh, its symbols and its history as we go in-depth in the country during our Bangladesh Unbound Tour.
About Post Author
.