Join us for this extension where you'll visit the most important places in the story of Nicolae Ceaușescu, the communist dictator of Romania whose trial and execution were shown on TV around the world over Christmas 1989.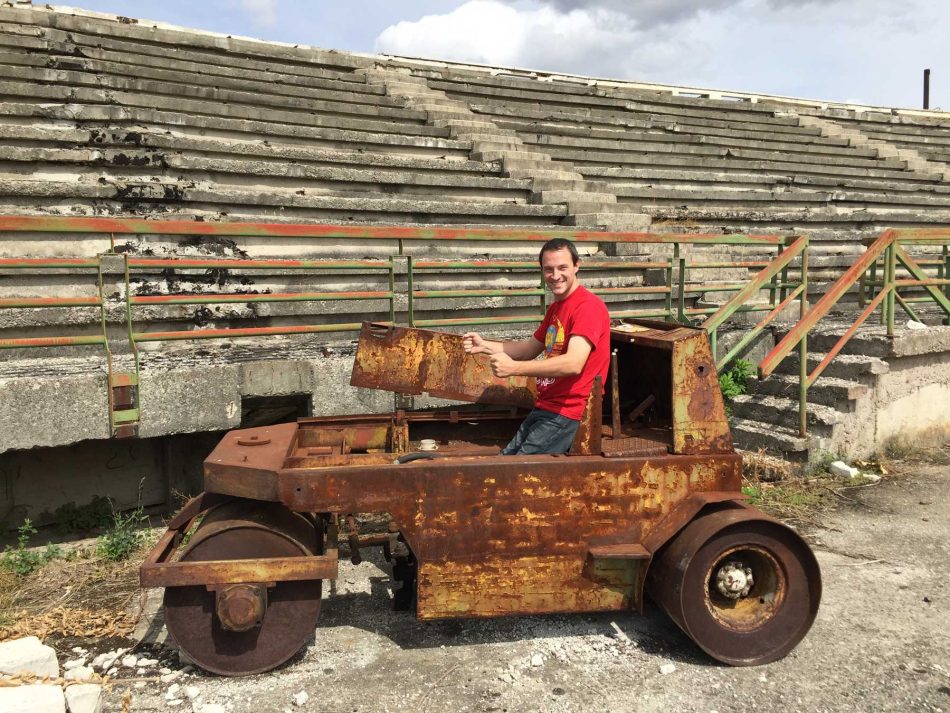 Price: €395 per person
Day 1
Breakfast with WiFi in the main Gara de Nord railway station before we depart.
First we'll head into downtown Bucharest to visit the unmissable Palace of the Parliament – built as part of Ceaușescu's plan to rebuild his capital in the image of Pyongyang, North Korea. Still not fully completed today, the former "People's House" is holder of various records, including world's heaviest building and world's most expensive administrative building. We'll see some of the opulence that the dictator planned, as well as visit the underground bunkers where Ceaușescu could hide out in case of nuclear war.
Next, we'll head for a visit to the former Mausoleum of the Communist Heroes – burial spot for senior figures during the Communist era, and the place where Ceaușescu expected to be buried; subsequently re-purposed as a war memorial.
Then we'll head to the Spring Palace, the Ceaușescu family's former home, preserved in excellent condition, to see how the first family lived. We'll take a guided tour and gain an insight into the opulent lifestyle that Romania's last dictator and his family enjoyed at a time when most Romanians were surviving on food and fuel rations and living in fear of the Securitate, the Romanian secret police.
Everything in the Spring Palace is original, and in its original place, since the presence of soldiers in the days following the revolution kept any looting to a minimum. Closets are still filled with fur coats belonging to Elena Ceausescu, while the couple's pyjamas are carefully folded on their bed.Afternoon
We'll enjoy lunch in an excellent restaurant nearby, in the district that was the former living area of the Communist party elite.
After lunch we'll drive to Pitești (120 km / 1.5 hrs) – location of the Pitești Experiment which was one of the most violent actions conducted by the communist regime inside a political prison. Between 1949–1951, around 600 students aged 18 to 27 were systematically and brutally tortured.
Overnight in Pitești.
Day 2
After breakfast we'll drive to Scornicesti (50 km / 45 mins)
First off today, you'll visit the house where Ceaușescu was born. With a hulking monument to the man himself outside, one of the only Ceaușescu statues left in Romania.
Inside you can see the bed he slept in and many artifacts from his childhood.
Then you'll head over to the stadium which Ceaușescu built for his favourite football team, big enough to hold the entire population of the town several times over! The local side still play here, but sadly now that other teams aren't afraid of beating them they're no longer in the 'A' Division.
Drive to Târgoviște (121 km / 2 hrs)
You'll see a "Vulture" fighter plane parked up at the roadside. This Romanian-built plane is from the period when Ceaușescu wanted to avoid dependence on any foreign country including the Soviet Union, and aimed for Romania to be self-sufficient.
Afternoon
After lunch you'll visit the location where the Ceaușescus were put on trial, preserved exactly as it was in those famous grainy TV shots from Christmas 1989. Then you'll head out back to the spot where they were executed. The original bullet holes are still clearly visible in the wall.
We'll then explore of the castles of Vlad the Impaler in Targoviste, better known as Dracula, he ruled Wallachia from this castle in the 1400s and was infamous for brutally impaling his enemies by the tens of thousands, sometimes even around his dinner table.
Drive to Doftana (60 km / 1.5 hrs)
We'll check into a beautiful mountain lodge deep in the mountains of Wallachia. Where we'll enjoy some beers overlooking the scenery or you can explore one of the many hiking trails around, but watch out for bears!
Overnight in Doftana.
Day 3
After breakfast, we'll check out Doftana prison. Also referred to as the Romanian Bastille or the Romanian Papillon, this is where Ceaușescu and other future prominent Communist party members were locked up. Prisoners produced a newspaper by hand using paper slips and smuggled pencils. It went under different names such as Doftana Red and Bolsheviks Handcuffed. Not only Romanian communists were imprisoned here, also captured German and Soviet soldiers and Hungarian civilians.
The prison is not open to the public, but we'll try and sneak in to have a look inside anyway!
Drive back to Bucharest (100 km / 1.5 hrs)
You can finish up at the airport or main train station if you have an onward flight
Or you can finish up by checking out the Military Museum, with an amazing collection of Cold War-era military hardware, both Soviet and Romanian-built.
Tour concludes.
.