From January 1st 2019 there have been changes at Everest Base Camp on the Chinese side in Tibet. While there are changes to where we can visit, it will not have a major effect on people's experience at the base camp area.
Previously travellers were able to go from the Rongbuk Monastery up to the 'base camp' where there is a viewing spot of Mount Everest. Now this area has been closed to travellers in order to protect the fragile natural environment of the region. There will be a major clean-up of accumulated litter and also, reportedly, of the corpses of hikers who died on the ascent from the base camp up to the peak.
This does not really affect the overall experience though. It is still possible to go to Rongbuk Monastery which is where YPT groups spend the night, and from where the peak can be seen clearly, weather permitting.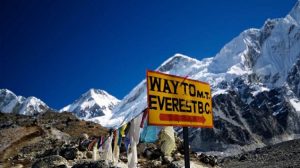 We expect that after the clean-up operation the area at the base camp will be reopened again, but YPT trips are carrying on as normal up to the Rongbuk Monastery.
Although Everest is of course the goal, the drive up from Lhasa to the base camp is stunning in and of itself, driving on top of the roof of the world. Driving along Lake Yamdro and stopping in Gyantse and Tibet's second city of Shigatse, home to the Panchen Lama, and stopping in traditional Tibetan villages along the way are all must-do activities in Tibet.
Visiting Everest Base Camp from the Chinese side has become more popular over the years, given the Nepalese side is only accessible by way of a week-long trek, and so for those on the Chinese side you can see the Himalayas and Everest itself without being a seasoned hiker.
Remember it is mandatory for every non-Chinese visitor to have a permit to enter the Tibetan Autonomous Region, find out here how to get one.
Visit Tibet and the Everest Base Camp area with YPT this July!
About Post Author
.