One of the perks to working in North Korean tourism is easy access to the many publications of the DPRK, rarely read by foreigners or made available online. We've shared a few of our favourite samplings from the "Anecdotes of Kim Jong Il" with you; so we'd like to mix it up a little bit with an excerpt from the "Anecdotes of Kim Il Sung, Part 2".
"Conversations on a Ship"
On June 17, 1994, President Kim Il Sung arranged a lunch for former US President Jimmy Carter, who was visiting Korea, on board a ship travelling to the West Sea Barrage.
He led the American guest to the table and, plying him with dishes, said that he had had no bean dishes prepared, as he knew his guest was allergic to beans. Carter asked his host how he knew about his eating habits.
Kim Il Sung said laughing that there was nothing in the world which he didn't know.
His guest smiled at this unceremonious joke.
As the ship was making its way out of Pyongyang, President Kim Il Sung called one of his entourage and asked him to get the ship to slow down. The ship began to lose speed, which made the American guest wonder, as he did not understand Korean. He asked his host why the ship was moving slowly. The latter, pointing to some anglers on one side of the river, said that if their ship disturbed the water by travelling at high speed, it may bother the anglers. He added that they should sail a bit slower for the anglers' convenience.
The two men had a friendly conversation on the ship. Time passed, and the ship arrived near Nampho Port. Carter enjoyed a panoramic view of the port, and noticed two small silos. Curious about them, he asked Kim Il Sung whether he would tell him what was inside the silos.
Kim Il Sung said such-and-such a thing was in one silo and such-and-such a thing in the other.
Impressed, Carter said in the following vein: "It is really surprising. True, there is nothing in the world that you don't know."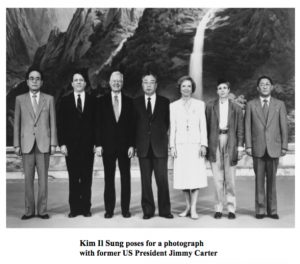 About Post Author
.