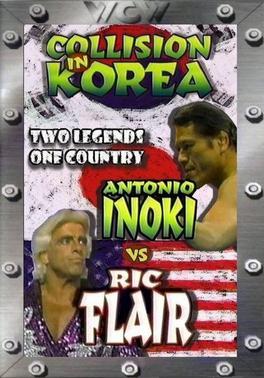 What was the Collision in Korea? When we think about great sporting events in North Korea it is natural to swing to the Mass Games, or for great cultural exchanges The Laibach Concert, but just over 25 years ago sport and cultural exchange come together for the Collision in Korea.
Collision in Korea
On the 29th April 1995 two of the most dramatic and indeed over the top forms of sporting drama occurred in the DPRK when the World Championship Wrestling (WCW) and New Japan Pro Wrestling (NJPW) arrived to enter in Mortal Combat in the Ryungrado May Day Stadium of Pyongyang. OK, so Mortal Kombat might be a bit over the top, but the crowd were certainly due a show!
Now for the non-wrestling geeks outs there WCW used to be a rival of the WWF until they later merged. Now it didn't have the stars of WWF (now WWE), there were still some big players out there. And the NJPW featured Antonio Inoki, a Japanese-Korean who identifies as North Korean. He comes from a tradition of Koreans who have shaped Japanese Pro-Wrestling. In fact, his predecessor, Rikidozan, is seen as the father of Japanese Pro-Wrestling, "I am a Korean", read it!
Pyongyang International Sports and Culture Festival for Peace of 1995
Now if this all seems a little bit surreal then hold onto your hats. The event was actually part of the wider Pyongyang International Sports and Culture Festival for Peace of 1995 and the wrestler's delegation was led by Muhammad Ali, yes the one and only "floats like a butterfly stings like a bee" Ali. Ali apparently came away with an extremely high opinion of his stay in North Korea and is certainly one of the biggest celebrities to have visited the country. You can read more about other famous folk that have visited the DPRK here.
As expected the event drew a huge amount of foreigners, with it in fact being the largest foreign group to visit since the 1989 World Festival of Youth And Students.
And did the Koreans enjoy wrestling? There have been numerous reports on this, but should be remembered that Korean Wrestling or Ssireum is taken very seriously and to put this in its politest form, isn't fake. In those respects ,the Koreans did not know whether to take it on face value, or if it was fake. Suffice to say this was not as loud as your average wrestling match.
Collision in Korea final fight! Ric Flair in North Korea!
And thus one of the surrealist events in North Korean cultural events, Collision in Korea finished with the final bout between Ric Flair and Antonio Inoki. Just having Rik Flair in North Korea sounds amazing in itself, but he was certainly not the biggest card on the event.
Ric Flair probably needs no introduction to those with a passion for wrestling and ended up being a famous star of the WWE/WWF. Inoki as stated is already fairly famous in the sporting and cultural scene of North Korea.
Unsurprisingly the "good guys" won, and professional wrestling had breached one of the last global frontiers, North Korea.
Cultural significance of the Collision in Korea?
It really cannot be underestimated just how important this event was in opening up North Korea to further tourism and cultural exchanges, just having someone as well known as Ric Flair in North Korea changed attitudes. One doubts that things like the Laibach concert could have happened without an event such as this. In this respects it marked the first truly Post-Soviet outing for the DPRK.
You can read more about the event here.
Sadly there are no current plans for an event as baller as Collision in Korea coming up, and we'd happily settle for tourism simply being allowed back into the country.
We hope to see you in North Korea in 2021, regardless of if there is any wrestling.
About Post Author
.