On Wednesday April 22nd 2015, seven travelers hailing from the the US, Canada, Australia, and Ireland, became part of the very small handful of people to have walked across the bridge from Tumen, China into Namyang, DPRK. As if entering a new country in itself isn't exciting enough, there is something more special when you cross that border by foot. Adding to this the fact that we were crossing a bridge into North Korea, it becomes easy to understand why our excitement was palpable and in turn, why the picture below becomes even more epic.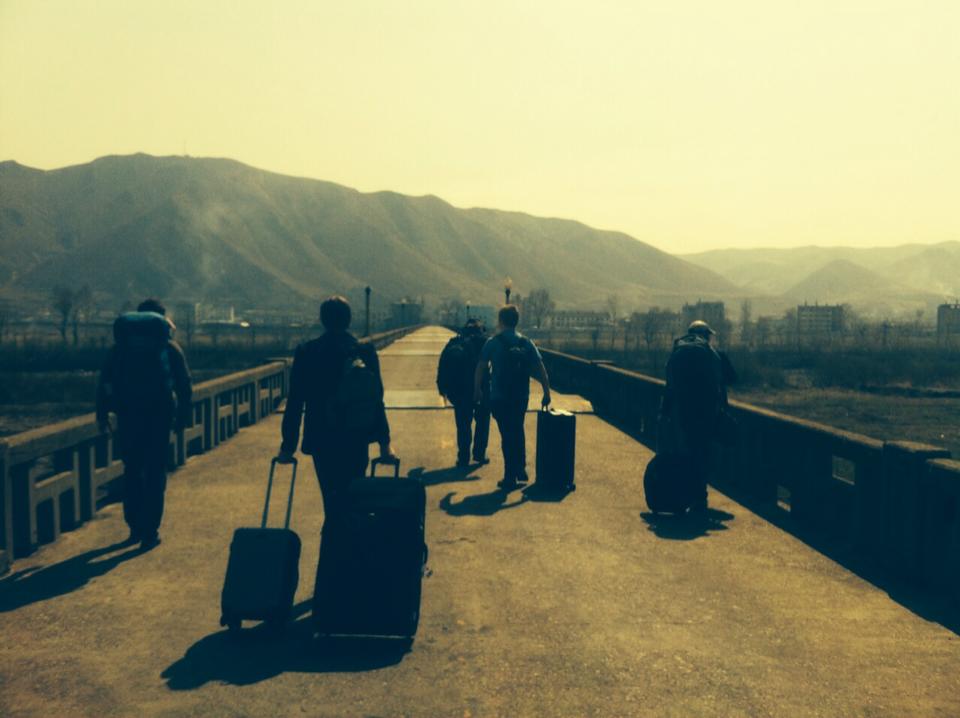 With only around forty western tourists passing through Namyang customs every year, the Chinese immigration officers in Tumen were noticeably bemused when we showed up in the empty building with our DPRK visas. Relatively straightforward on the Chinese side, we were bid a hearty goodbye and made our way across the bridge. Arriving in Namyang, we were saluted by the soldier from the Korean People's Army and proceeded inside the customs building for a thorough inspection of our bags. On my previous visit to Pyongyang, I met the First Secretary of the Russian Embassy in a bar and we had a few drinks together. I forgot that I had his business card in my wallet and after the customs official examined it, his demeanor quickly changed and he gave up searching my things. And people say drinking is bad….
So, the seven of us, along with our incredible guides, So, Chae, and Ma, boarded our bus and made our way down the long, bumpy, windy, dusty road to Hoeryong. I think the most incredible part of this drive has to be the fact that we hugged the Tumen River the whole way there. This means we could see just how narrow the Tumen river is at parts and most of the group were shocked at just how close the shoreline of China was at times.
"Mr. So explained to us that in summer time, children from the villages in North Korea and those from the villages in China, play with each other in the river and then return to their respective countries. This surprised those in the group who had read lots about the heavily fortified Sino-Korean border but upon inspection, the vast majority of the river banks are completely devoid of guards or any other patrols."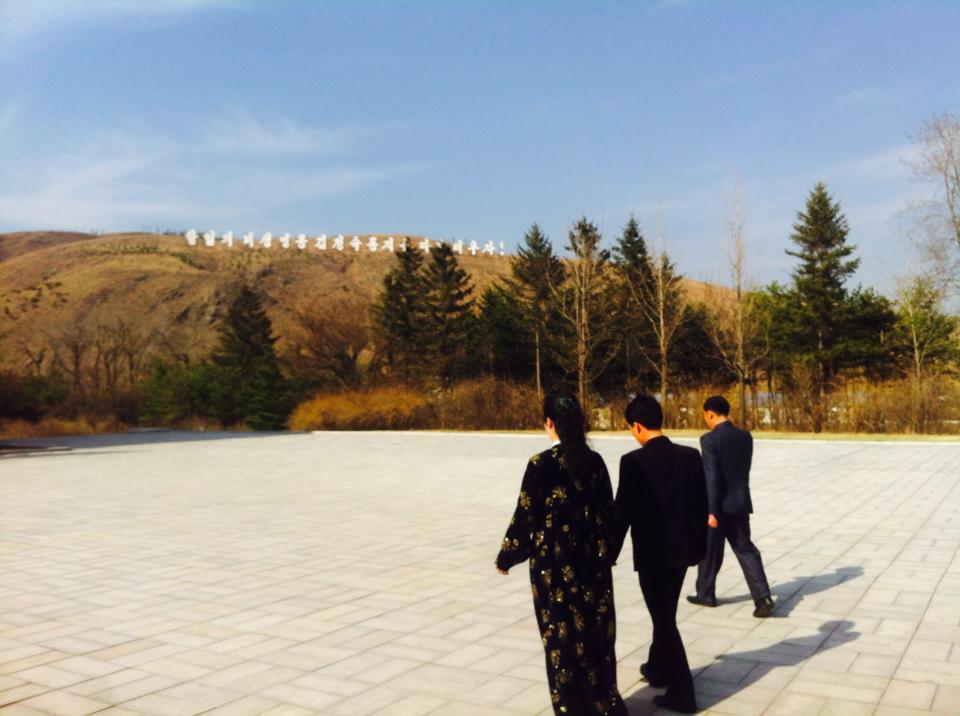 Hoeryong's importance in contemporary DPRK culture is down to the fact that Mother Kim Jong Suk, wife of Kim Il
Sung, was born in the county. Kim Jong Suk is a revered figure in North Korea and her exploits against the Japanese as a guerrilla fighter in the 1930's and 1940's are proudly told and retold throughout the country. After visiting the impressive statue dedicated to her, we visited her home which looks very similar to Kim Il Sung's birth home in Mangyongdae. Following a visit to the home, we walked to the revolutionary museum where we learned more about the sacrifices she made during the Korean struggle for independence.
Following our tour around Hoeryong, we jumped back on our bus and made our way to Chongjin, the third biggest city in the DPRK. Having spent much time in Pyongyang, it becomes easy to forget that the rest of North Korea does not have the same access to electricity as the citizens who live there. This fact became startlingly evident as the bus entered the city at around 8pm and was met with a wall of darkness. As the bus sped down the main street, it became clear that despite the complete lack of any illumination, the place was bustling with pedestrians and cyclists who were seemingly able to navigate perfectly fine.
We pulled into the Chongjin Hotel at around 8.30pm and indulged in some incredible cuisine, glasses of Soju, and bottles of beer. After some pretty deep political / religious / cultural conversations that would become very much the norm throughout the trip, we made our way over to the Seaman's Club for some post meal drinks and fun. Unperturbed by the numerous blackouts, the five of us that opted to go to the bar, drank soju, beer and tasty makoli before enjoying the dancing and singing of some of the most beautiful girls I have had the pleasure of seeing in the DPRK. After joining in ourselves, a few of the group made no secret of the fact that they had just fallen in love!
Understanding that our driver was probably more than a little tired, we bid a sad goodbye to our lovely waitress hostesses and made our way back to the hotel for our first night's sleep in North Hamgyong Province.
Following an early breakfast the next morning, we were back on the road and making our way to Mount Chilbo, one of the five revered mountains of the Korean Peninsula. The drive took us past some incredible views and scenery, unlike anything I had seen during my visits to Pyongyang, Nampo and other cities in the south of the DPRK. With Troy Collings, owner of Young Pioneer Tours, having been the first westerner to cross into North Hamgyong Province from Tumen in 2013, the idea of western tourism within the area is still very much in its infancy. This means that the rules are very much akin to what it was like in Pyongyang ten years ago; namely, no photographs of local people, machinery, cars etc. Although for the more snap happy of our group, this initially proved a little bothersome, they quickly realized that it was nice to just sit back and enjoy it for what it is, rather than trying to find the perfect picture.

We arrived at Mount Chilbo Outer Hotel in the afternoon and following lunch, made our way to Inner Chilbo for a hike through the mountain and to see some of the more scenic sites. Along the trail, we came across a tree that look like it was rotting and so, following encouragement from our Korean guides, we banded together as a group and managed to topple the huge specimen without incurring any injuries ourselves. Something I had not realized before is that Koreans (or perhaps only those from North Hamgyong?) have an incredible desire to name rocks after what they appear to look like. Although some of them e.g. Woman Holding Baby Rock, Woman With Hand Down Man's Trousers Rock, and Gorilla Rock did indeed look like what they are describing, when it came to Bag of Rice Rock, I got the impression that they were either taking the piss, or clutching at straws.
"Nevertheless, the rock formations were truly incredible and when we reached some of the summits and peaks, the landscape in combination with the beautiful weather, made for some surreal moments. It was during such moments that I had to remind myself that I was actually in the DPRK."
The next day, following breakfast at the Outer Chilbo Hotel and a few more glorious hikes to Tokgol and Manmulsang, we made our way to the Homestay Village in the Sea Chilbo area. Before this however, we hiked to a waterfall area and one of the group got the brilliant idea to jump from high rocks into the pool below. In summer this would be no problem but the temperature of the water was so cold that parts of the same river were still frozen over. After he became a true pioneer and jumped in, someone else in the group followed suit. Always one to follow the crowd, I didn't want to be left out and after stripping down to my nags, I climbed the ledge and saw that it looked about twice as high as I had envisaged. After about five minutes of standing there, I still hadn't jumped but I also knew that there was no way I could do the walk of shame back down. Eventually I just counted down and did it – probably the coldest I have ever been. I found it difficult to even catch a breath but I was pretty proud of myself and it also got rid of that lingering hangover from the previous nights festivities.
We stopped at a beach on the outskirts of the village and all hopped on a small fishing boat in order to get a more panoramic view of Mount Chilbo. From the fishing boat, the whole area looked like what I imagine some of the world's most beautiful beach resorts to have looked like before being overtaken by huge hotels and apartment blocks. Truly breathtaking.
After our tour around the harbor, we enjoyed a very traditional picnic lunch on the beach and washed it down with local soju and beer. Having eaten a lot, we decided to walk to the Homestay Village instead of taking the bus and we quickly saw in front of us, beautiful Korean style houses but with a very modern twist. This would be our home for one night.
"At the Homestay Village, two people would stay in one house and in each house there is a husband, a wife, and, in most cases, children. The houses are built to a very high standard and, admittedly, are not wholly representative of the typical North Korean household. Nevertheless, they are real people, living real lives and it really is the best way to get a good idea of how a DPRK community operates. The original plan for the site was to build a hotel but a Homestay Village was instead created because someone assumed that tourists would much prefer to experience life with a local Korean family than to stay in a regular hotel – they were correct."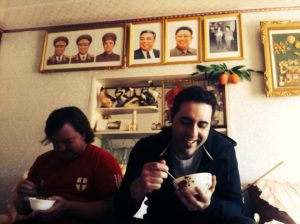 When we first arrived at the village we went straight to the beach volleyball court were we would be battling the locals in a game of which none of our group played and of which all of our opponents played pretty much every day. Sensing an annihilation, we decided to split up the teams and although it took us a while, we finally got into the rhythm of the game. With the western players feeling a surge of confidence we felt that we were ready to take on the Koreans as a collective unit and so, following a thirst quenching session of Taedonggang beer drinking alongside our soon to be rivals, we took to the court once again. I would like to describe now of some rags-to-riches, Rocky-esque story but the fact is we lost, and lost pretty bad.
Following the volleyball session, the local people introduced us to Korean Wrestling in which each wrestler must hold onto the material wrapped around his or her opponent and try to get that person on the ground. Following about five matches, three of our group suffered injuries to the leg, ribs, and arm so we decided to call it a day on that.
Following our afternoon of sports and warm weather beer drinking, we made our way up to one of the traditional Korean homes were we would be helping local people make rice cakes and rice noodles. With the help of our extremely friendly hosts, we got the hang of it pretty quickly and at dinner that night, we got to eat the fruits of our labor.
When we were too full to eat anymore, we grabbed our soju and beer and made our way down to the beach were we would be having a bonfire with the locals. As it inevitably does in Korea, singing soon broke out and we were lucky enough to be serenaded by local men and woman singing Korean revolutionary songs. Our more western approach to bonfire singing may not have sounded quite as beautiful as the nationalistic tunes that preceded them but our efforts were certainly appreciated. As a final thank you to the locals and our host families for being so inviting, we sang them a song that we had been practicing all day in preparation for this moment – Defend to the Last General Kim Jong Un. Mr. So had helped us practice it on the bus on the way to Chilbo and although we stuttered over a few words, I think the locals were pretty happy we gave it a shot!
The next morning we awoke early and helped the local dwellers with some chores. Toiling away under the early morning sun, we helped plant corn on one of the personal farming plots of the residents. We only mustered around ten minutes of actual work and following the not-so-backbreaking planting of kernels, I asked my host mum if I could use a bike. She said yes, but as her son had to go to school on it, I needed to be back by 8 am. I jumped on it and cycled down to the beach where I saw locals working on a construction project, cycled to the other end of the village where I watched people practicing taekwondo, and then looped around back through the village, back to the house, so my little host brother could get to school on time!
We said goodbye to the villagers and made our way to the starting point of our final hike of the trip. This would be the longest of all the hikes but at around two hours to the top, was not too demanding at all. We were the first tourists of the season to travel to this part of the mountain and we found many boulders and rocks blocking our way. Collectively, however, we moved some of the large rocks and this, coupled with the driver's extreme / skillful driving, allowed us to make it quite high up the mountain road. A huge tree, however, proved insurmountable and we began our hike from there.
"The view at the top was simply breathtaking; one of those views that no picture could possibly do justice. A few of the group remarked, and I had to agree, that what makes all of these views even more incredible than they already are, is that one is free to enjoy them in complete peace and quiet. Unlike other countries, no one is trying to sell you anything, there are no other tourists trying to push by you, and there are no noises except those prescribed by nature."
Sadly leaving beautiful Mount Chilbo, we made our way back up north to Gyongsong, an area famous for its natural spa water. With this in mind, we just had to visit one of the local mineral baths and although perhaps not as hot as some of us would have liked, we still enjoyed soaking in the individual tubs. Our enjoyment probably stemmed from the unavailability of hot water at the hotels in North Hamgyong, and as a result of not really being able to shower for the whole trip, the bath was a welcomed treat!
Upon leaving the spa complex, I noticed some kids in the opposite park playing football. I walked over and in doing the universal hand gesture for 'pass me the ball,' I apparently scared them away. I realized that these kids had probably never seen, let alone met, a westerner before so I guess it was understandable that they be terrified. Nevertheless, Mr Chae called them back and with some trepidation, they re-emerged and I told them I would be goalkeeper if they wanted to play. They heartily agreed and what ensued was around fifteen minutes of unscheduled grassroots internationalization.
On the tour, Mr. So told me that people in North Hamgyong used to hate US citizens coming to their towns and villages. Then, he said, the local people saw their leader Kim Jong Un on TV openly embracing Dennis Rodman, an American. He told me that after that event, people's perceptions in North Hamgyong changed; they reasoned that if the Marshall can embrace Americans, then so could they. This an example of when engagement works, and with regards to this situation, although little things like playing football with a bunch of kids isn't going to change the world, it may very well alter the viewpoints towards westerners that those individual kids possess.
The next day, we left Gyongsong and made our way to Chongjin were we enjoyed a performance at the local Kindergarten. Regardless of how many of these shows I have seen, the talent that some of these kids possess never fails to amaze me. After the performance we made our way outside and took some group photos on the playground rides which took the shapes of, among other things, rocket ships, tanks and bomber planes.
In Chongjin, we also paid a visit to the newly erected statues of President Kim Il Sung and General Kim Jong Il, which although much smaller than those in Mansudae, Pyongyang, are nevertheless extremely impressive.
As luck would have it, we happened to be in town when the North Hamgyong Province Art Troup were performing and we were not disappointed. While we waited for the show to start we were put in a VIP waiting room and after about ten minutes, we were led into the main theatre to take our seats. With very few tourists visiting the region, every single person in the audience stood up or craned their head or did whatever they could to get a look at us and a general whisper rippled throughout the crowd. The show itself was exceptional with lots of heartfelt revolutionary songs and we were even treated to the Chongjin debut of a brand new song – Let's Climb Mount Paektu.
Following the show, we made our way to Hoeryong and checked in at the local hotel. Our day of culture and music had not ended yet and we were treated to a performance by the hotel waitresses who are among the most fun, energetic and outgoing people I have met in the DPRK. Of course, we were expected to take part and after polishing off a few bottles of soju and more than a few bottles of beer, everyone in the group was more than keen for a dance! Together with the waitresses, we all sang our revolutionary song Defend to the Last General Kim Jong Un and following this, they treated us to a rousing performance of the DPRK national anthem.
"The night ended with one of the group dancing on the stage in his birthday suit, but I think that story is best left to another time."
Whatever the opposite of 'bright eyed and bushy tailed' is; the next morning, we were it. Nevertheless, we would not be crossing the border until the afternoon and still had a few things left to see. The main focus of this day would be our visit to Kim Ki Song Middle School in Hoeryong. At the school we were able to observe an English lesson and myself and someone else in the group even put on an English lesson for them. Their understanding of English was surprisingly good but, as is the case with most English teaching in Asian countries, the answers were a bit robotic due to high emphasis being put on repetition and not enough on conversation. Following the very successful English lesson, we made our way outside where a PE class was underway. We managed to arrange a football game of DPRK v YPT and after a hard fought battle in what had become a searing heat, YPT somehow emerged victorious. The middle school students seemed pretty dejected but cheered up by the time the group photo was taken.
After defeating the Koreans in their own backyard, we jumped back on our bus and followed the Tumen River all the way back up to Namyang. Before this however, we stopped at the Wangjaesan Grand Monument which is made up of one hundred different sculptures. Even including those in Pyongyang, this, in my opinion, is the most impressive monument in the whole of the DPRK. The attention to detail, the size, and the surroundings, all contribute in making it a phenomenal piece of art. With heavy hearts, we left the Grand Monument and made our way back to Namyang customs where we were again subjected to rigorous checks and eventually given the all clear. And so, after being given one final salute by the KPA soldier stationed at the border, the seven intrepid travelers made their way back across the flowing Tumen river.

---
We run North East tours throughout the year.
See our 2018 tour schedule
here.
About Post Author
.