Mealtime in North Korea, like many East Asian countries, is a communal gathering with a shared assortment of dishes. Those who have visited North Korea on a tour have had the experience, sitting around the lunch table, drinking a beer, and discussing the day's events.
But mealtimes in North Korea aren't just great for the community aspect- one of the other things that makes it so enjoyable is the fun of waiting to see what dish will be brought out next. North Korea has an extensive and varied range of cuisine, with a few choice favourite dishes and a few staples served with almost every meal (kimchi, anyone?).
---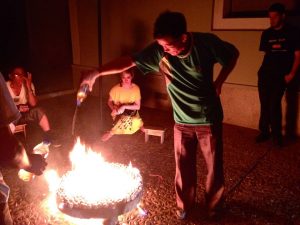 So for those who have yet to visit North Korea and are looking for just a 'small taste' of what the country has to offer, or for those who've been and are looking for some nostalgic reliving of the time they spent in the country, we'd like to share some recipes of our favourite Korean dishes for you to try at home.
Korean Bibimbap
Bibimbap is one of the main dishes anywhere you go in the Korean peninsula. The name literally means "mixed rice," and it's an incredibly versatile dish as there are innumerable variations of Bibimbap that could theoretically be made. Certain styles will be popular regionally based on what was traditionally grown or favored in those areas. We've chosen this recipe because it's one of the standard Korean Bibimbap recipes and is easy to make with quite standard ingredients.
If you've tried Korean Bibimbap before, you've probably been served Dolsot Bibimbap, also known as 'stone pot' bibimbap. In this variety, the bibimbap is served in a hot stone pot, and the egg is cooked on the sides of the pot after served. This variety is most popular in restaurants because the presentation is more interesting and the food is very hot when served.
This recipe should take about an hour to prepare and serves four people. Beef is also chosen as the main meat in this variety of bibimbap, but can easily be switched for your choice of meat (or tofu for the vegetarians/vegans!).
Main Ingredients (serves 4):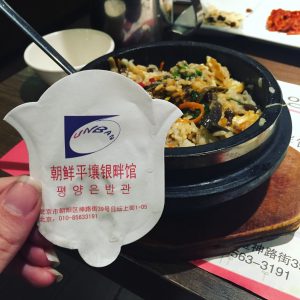 Bibimbap served at Unban, a DPRK-run restaurant in Beijing.

1 English cucumber, cut into matchsticks

1/4 cup gochujang (Korean hot pepper paste)

1 bunch fresh spinach, cut into thin strips

1 tablespoon soy sauce

1 teaspoon olive oil

2 carrots, cut into matchsticks

1 clove garlic, minced

1 pinch red pepper flakes

1 pound thinly-sliced beef top round steak

1 teaspoon olive oil

4 large eggs

4 cups cooked white rice

4 teaspoons toasted sesame oil, divided

1 teaspoon sesame seeds

2 teaspoons gochujang (Korean hot pepper paste), divided (optional)
Directions:
Stir cucumber pieces with 1/4 cup gochujang paste into a bowl and set aside.
Next, bring about 2 cups of water to a boil in a large nonstick skillet and stir in spinach. Cook the spinach until it is bright green and wilted, about 2-3 minutes. Drain and squeeze out as much moisture as possible, then set the spinach aside in a bowl and stir the soy sauce in.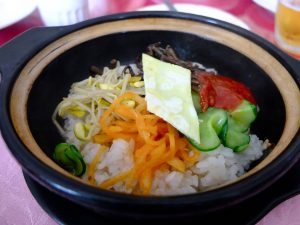 Next, heat 1 teaspoon olive oil in a large nonstick skillet and cook and stir carrots until softened, or about 3 minutes. Stir in the garlic and cook just until fragrant, about 1 more minute. Stir in the cucumber pieces with gochujang paste; sprinkle with red pepper flakes and set the mixture aside in a bowl.
Brown the beef in a clean nonstick skillet over medium heat, about 5 minutes per side, and set aside. In a separate nonstick skillet, heat 1 more teaspoon olive oil over medium-low heat and fry the eggs just on one side until the yolks are runny but whites are firm, about 2-4 minutes each.
Last – time to assemble! Divide the cooked rice into 4 large serving bowls; top with spinach mixture, a few pieces of beef, and cucumber mixture. Place 1 egg atop each serving. Drizzle each bowl with 1 teaspoon sesame oil, a sprinkle of sesame seeds, and a small amount of gochujang paste if desired. Serve & enjoy!
---
Enjoy it yourself on one of our many tours to North Korea.
Click here for more information.
About Post Author
.