9) Lake Issyk Kul is more than just a lake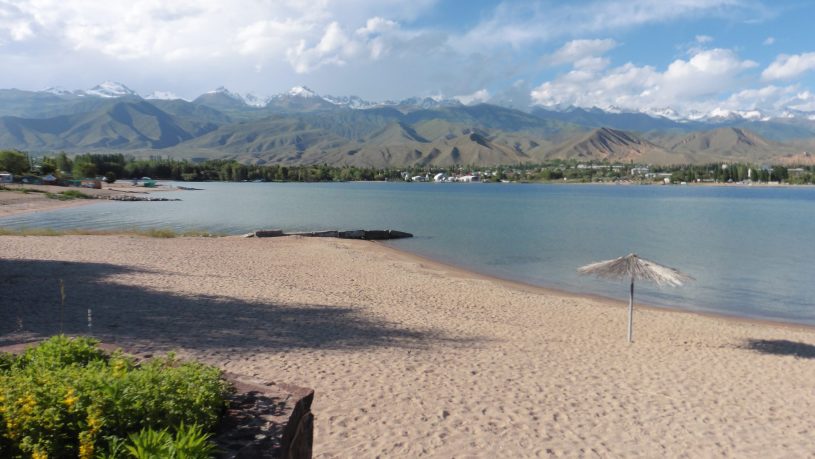 Kyrgyz people are proud of Lake Issyk Kul and why wouldn't they be? Its stunning! Issyk Kul means 'Warm Lake' – which does mean when we say Lake Issyk Kul, we are saying Lake Warm Lake. It's called this because it's surrounded by snow capped mountains all year round and yet never freezes. Although swimming in the lake and relaxing on its shores in fun, there's more to it than that. On our Kyrgyzstan tours we visit an old Soviet brewery and an abandoned heavy water (rocket fuel) factory, both on the shore of the lake. These are places you can't just rock up to as a normal tourist and look around, so coming with us is a great way to see what more this lake has to offer.
8) You can stay in a Yurt with a real family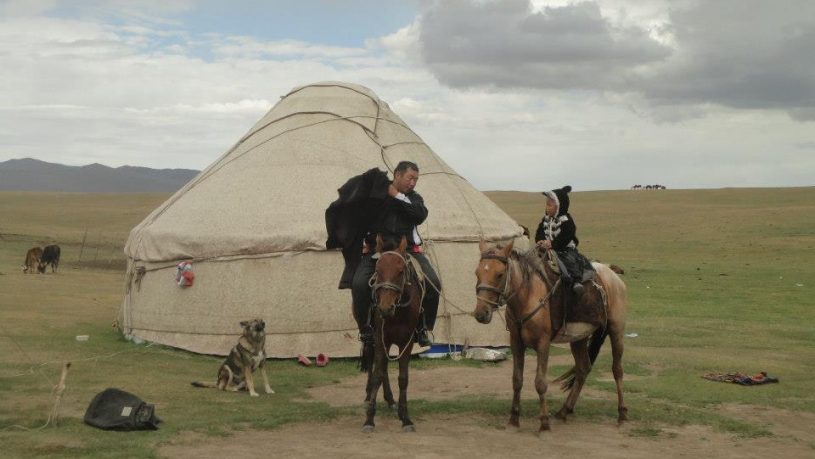 Too often you get excited about homestays and staying in yurts, only to find that it's somewhat of a tourist trap. It's not a 'real' family getting on with their lives but rather a way to make a quick buck. We make sure we stay with real families, whilst being careful not to get in their way too much as they live their traditional nomadic lifestyles.
7) See their Soviet Heritage
Like most former Soviet countries, Kyrgyzstan is understandably trying to modernise and carve out their own identity on the world stage. As such certain aspects of their recent history are a little harder to find. We make sure we show you this fascinating aspect of their history. Along with the aforementioned brewery and heavy water factory, we'll also see other gems like a former soviet air-force airport, the Jargalan Health Spa and a Soviet meteorology station.
6) See the Buzkashi Horse Games
Many people will pass links around facebook about Buzkashi, you may have read an article or even heard someone talking about it, but in reality very few tourists actually ever see it. It's not like a normal football match where you can just turn up in a city and buy tickets to the game. Buzkashi is a traditional Kyrgyz version of polo, played on horseback. The difference between their unique version and normal polo is the use of a dead goat as the 'ball'. On our visits to Kyrgyzstan we get to witness this awesome event, as part of the Independence Day celebrations.
5) Did we mention Independence Day Celebrations? Military parades? Partying Kyrgyz style?
We make sure we get invited to all the best events to have fun Kyrgyz style and who doesn't love a good parade right? I was in Kyrgyzstan for Independence Day last year and as I was leaving the hostel I was staying at in the morning, I asked some of the other foreigners and tourists if they were going to see any of the events to which the universal response was "which events?" Being an independent traveller is great, but you do miss out on some great stuff from not being with people in the know.
4) The scenery of some of the most isolated places on earth
Kyrgyzstan is beautiful, there is no disagreement about this, but it also can take a long time to get around this amazing country and relying on public buses and share taxis can only get you so far. We go to some truly amazing places on our tours such as Jetty Ögüz Gorge, Tash Rabat and Kök-Zhaik just to name a few.
3) Kyrgyzstan is one of the forgotten routes of the Silk Road
Everyone knows about China, Kazakhstan, Persia, Uzbekistan etc. But many people forget that Kyrgyzstan also has some amazing Silk Road history. Travelling to Kyrgyzstan we'll take you to see places like the Burana Tower, which was built by a Kyrgyz ruler in the 9th century to protect his daughter whom it was forewarned would die at age 18. Although no intruders could access her high in the tower, her downfall came from a spider bite at the predicted 18 years of age. We also, as mentioned, go to Tash Rabat, one of the oldest Caravanserais remaining in the world which is located in arguably one of the most isolated parts of the world.
2) Did you know you could go skiing in Kyrgyzstan?
On our Winter Extravaganza tour, we take you to one of the stranger skiing experiences you might ever have, (with the exception of skiing in North Korea.) The facilities aren't great but neither are they particularly well known or accessible. We need 4wd's to get up to the slopes, which means normal public buses and share taxis can't get there.
1) You want to party with some great people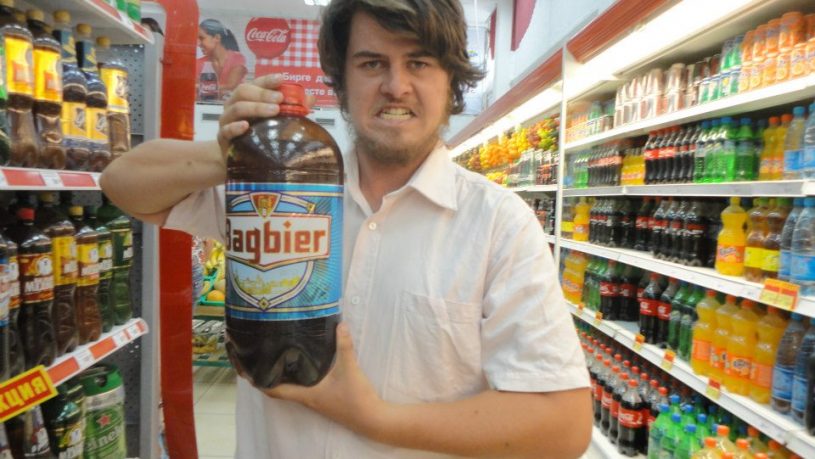 Alcohol is very very cheap in Kyrgyzstan. A pint of beer can cost as little as 60som (90cents) and a whole bottle of vodka as little as 200som ($2.80, although you might want to buy the slightly more expensive stuff). For the discerning consumer of beverages, you can buy beer in 1L, 2L, 3L and even 5L plastic bottles in every supermarket, convenience store and petrol station.
Our next tour to Kyrgyzstan is in September, so don't miss out on another great opportunity:
Got questions? When's the best time to travel to Kyrgyzstan? Is it safe? Do you need a visa? Take a look at our Central Asia FAQ or get in touch for answers!
SEE THE TOURGET IN TOUCH
About Post Author
.