Bougainville, previously known as the Northern Solomons, was discovered by the French more than 200 years ago but it had already a long history amongst the local tribes. This history has been well preserved through the many rituals which still take place around important moments of life, such as funerals, weddings and births. Attending one of those events is sure to give you a direct insight in these cultures, which are thousands of years old.
Relics of World War II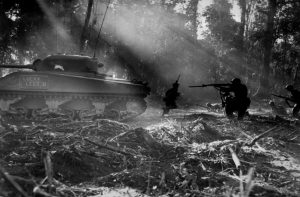 Bougainville was also a very important theatre of war during WWII. It was an important airbase for the Royal New Zealand Airforce and the US Airforce and the location of many clashes between the Japanese Imperial Army and the Allies. Lots of ruined bunkers, tanks and artillery pieces can be found on its land, and the surrounding waters are replete with shipwrecks. Bougainville is truly a land where history can not only be told but also seen and touched.
Culture
Being isolated on two islands, the cultures found in the Autonomous Region of Bougainville are extremely different from the ones you would find on the main peninsula of PNG. Over 23 languages are spoken on the islands. Amongst many other things, you'll get the chance to see the colourful, dome-like Upei headdress men wear in celebrations.
It is actually quite hard to write about the cultures of Bougainville since so few people have been there yet. Documentaries are hard to come by and photos available on the internet do not come by the dozen. To any anthropologist, filmmaker or photographer, Bougainville is sure to give you a lot to work with!
Gorgeous Scenery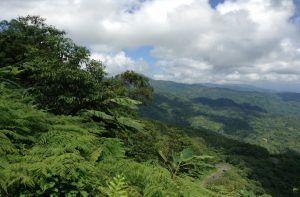 Forget about the overcrowded beaches of Bacui, Bali and Thailand – in Bougainville, you can get golden sand and crystal-clear water to yourself. Since tourism hasn't really grown in Bougainville yet, there are hidden paradises all along the 685km of coastline waiting for you to discover.
But Bougainville not only offers beaches, it also has numerous volcanoes – both dormant and active – as well as untouched rivers and waterfalls. These area of waters often connect to caves, such as the Eberia cave, a mystifying place which the locals branded as a gateway to the underworld.
As it is less populated than the main peninsula of PNG, the scenery of Bougainville is very often pristine and free of trash. Get in there before it changes!
Truly getting off the beaten path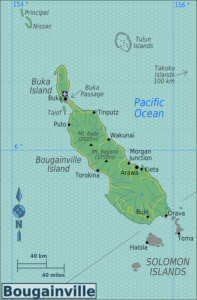 A lot of travelers travel so that they can see more of the world and go where few have been before. In our world of globalization, it feels like these kinds of 'off the beaten path' places are disappearing one by one. Bougainville is one of the few left. You can be sure that by visiting Bougainville, you'll have seen things that only a few dozen foreigners have seen and have memories to cherish for the rest of your life.
Villagers around the area are extremely welcoming. By visiting Bougainville, you will surely get to be the first foreigner to experience many ceremonies and visit some of the places on your way.
Now's the time!
Due to its tragic history, Bougainville has long been too difficult to visit, or simply unsafe. Now that the Civil War has ended and conflicts in its aftermath have calmed down, the country has been slowly rebuilding itself. While visiting Bougainville still requires a small security escort for peace of mind, the locals are eager to get their land and culture out to the outside world.
A referendum for independence is in the works (due to happen around 2020). While we hope the result of the vote can be accepted peacefully and we wish the best to the people of Bougainville, it is hard to guess what will become of the area after the vote. Now is probably the best time to visit!
We hope you've enjoyed learning more about this part of the world that is truly worth getting to know. But no article is as good as discovering the place by yourself! Don't wait too long – join YPT on next year's brand-new tour to Papua New Guinea, visiting both the legendary Mount Hagen Festival and the Bougainville Autonomous region. You can also take our standalone Bougainville Tour!
About Post Author
.