One of the things we love most at YPT is seeing people get quite literally nailed to a cross in the Philippines. So, with baited breath and a 2 year absence, we ask with the 2023 Cutud Lenten Rites Festival take place!
What is the Cutud Lenten Rites Festival?
Quite simply a mixture between a village fete, fair, religious festival and just the pure bizarre. Held on Easter Friday it sees people not only self flagellate, but also get nailed to the cross as part of the Easter celebrations in San Fernando Philippines.
A bizarre affair, particularly when you take into account that San Fernando is a stone throw from party city that is Angles City.
To read about Angles City click here. 
Why did it stop for 2 years?
Well remember that whole Covid thing, well it was decided that nailing people to crosses in a public gathering was not concussive to public health.
And sadly like much everything else could not happen, with Easter Celebration in general dropping to almost nothing.
As for the 2023 Cutud Lenten Rites Festival, well the jury is still out.
So, will the 2023 Cutud Lenten Rites Festival take place?
It is as of now unclear, even though the Philippines has for all intents reopened to tourism. The country is as of yet not exactly back to normal, unlike Cambodia, or Thailand for example.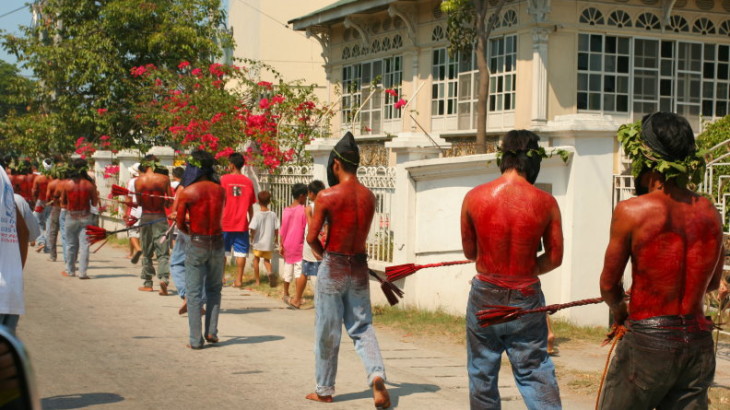 There is though much promise it can and could take place, with our contacts at least being positive about it. We are hoping to get more information and will update accordingly.
And with this in mind we are taking bookings for two tours which will allow you to see it, out Cutud Lenten Rites Tour, as well as our Extreme Philippines Tour.
You can check out the 2023 Cutud Lnten Rites tour here
You can check out our Extreme Philippines Tour here
About Post Author
.