Chinese Ghost City – Ordos and Kangbashi Tour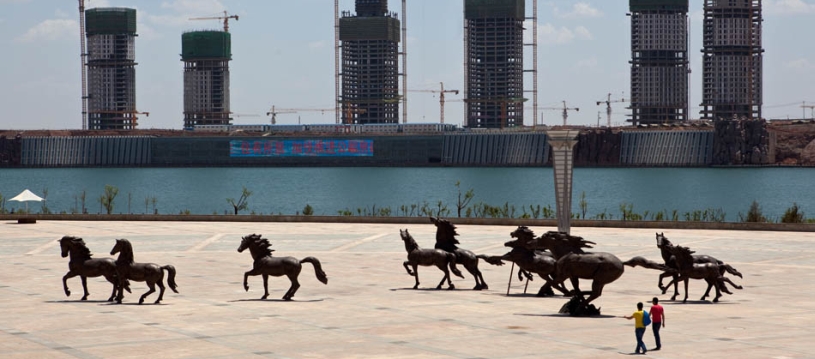 Join YPT for full-on urban exploration in the ghost city of Kangbashi!
YPT Chinese Ghost City – Ordos and Kangbashi Tours 2017
If you've ever spent any time in a Chinese city you'll be well used to the throng, walking the night markets where it seems like every conceivable snack is on offer or pushing your way through people trying to sell you things outside train stations. Kangbashi is different, and it is almost a welcome novelty having almost a whole city square, a hospital, train station or apartment complex to ourselves.
Kangbashi ghost city shot to international prominence with a number of articles by Al Jazeera and other international media. Having grown rich overnight on the profits of coal and natural gas, by 2012 the money had run out and the city was in high levels of debt. Kangbashi therefore is not an abandoned city but a new city waiting for people to come.
After intense government efforts to move people into Kangbashi, there are debates about whether it is slowly filling up or whether most of the residential complexes and office blocks are destined to remain empty. What remains true though is that built for a population of 1 million there are still only tens of thousands of people there, and it is not going to shed its ghost city moniker any time soon.
The YPT Kangbashi ghost city tour is a chance for us to explore the urban infrastructure in varied levels of completedness. It is a chance to explore and as tourists you can have input into exactly what we do. If a building or particular complex catches your eye we can go and check it out!
This is a very interesting trip which can be done as one of our planned extensions from our current tours, or as a flexible independent package escorted by one of our expert YPT guides. Flying from Beijing is just over an hour but from June 2016 it will be possible to take high-speed rail for an added cost.
Note: For those wishing to start or finish in a city other than Beijing, please get in touch.
No. of Pax
Price
Other Details
1
€945
Beijing – Ordos – Beijing – (2 nights, 3 days)
2
€665
3
€565
4
€535
Itinerary
Day One
We board the late afternoon flight from Nanyuan Airport in Beijing
Arrival at Yijinhuoluo Airport in Ordos.
On the airport bus to Ordos we catch our first glimpse of Kangbashi ghost city and pass numerous vacant residential blocks
Arrive in Ordos, check into hotel and eat North Korean food
Night-time exploration of Ordos
Day Two
Morning
Up nice and early to begin the day of exploration. Our first stop is the empty cultural square in Ordos city itself
Trip Highlight – our driver picks us up at the hotel and we then visit the mosque before heading out to the abandoned mansion complex where a functioning school and hospital operate. The hospital is very clean, equipped with ultra modern technology and fully staffed; however, neither the school nor the hospital have students or patients.
Visit the 60,000-seater Kangbashi stadium, gymnasium and swimming pool on the way from Ordos, built to hold the 2015 Chinese Ethnic Minority Olympic Games but usually empty
Lunch in Kangbashi after checking into hotel
Afternoon
Trip Highlight – walking tour of Kangbashi city centre, from Genghis Khan Square with its giant Mongol statues past the museum built in the shape of a beret and the library built to resemble three books on a shelf and on to the skyscrapers on the riverfront
Watch the sunset on the giant sand dune to the southeast of the city with a great view of the whole city, unfinished residential tower blocks and a family of camels roaming around!
Check back to the hotel to freshen up before hitting the town for local Mongolian food and exploring the nightlife of a ghost town
Day Three
Morning
Trip Highlight – Head out to the area around the Genghis Khan Mausoleum. Built in the 1950s by the CCP to provide a fixed place of worship for this 'Chinese' hero. The mausoleum is an optional extra at 150RMB, but the area around it is full of riches. We pass by the Mongol Yuan Dynasty film set before exploring the seemingly random abandoned buildings dotted around the countryside
Lunch in a local restaurant.
Afternoon
Make our way to Yijinhuoluo airport, the departures floor is built to resemble a Mongol yurt and the ceiling is decorated with ethnic murals
Fly out and end of tour
Price inclusive of:
Flights
Airport bus and our own car and driver
Guides
Meals
2 nights accommodation
Price exclusive of:
Getting to Beijing
The optional extra of Genghis Khan Mausoleum
Please Note: Flights may vary depending on days and departure cities. We will inform you of your best time to fly to fit into our itinerary.